When Medical University of South Carolina patient Amauri Bowman got a call asking her to give welcoming remarks at a banquet for Hillary Clinton, "I was shocked. I was speechless."
But Amauri, a senior at the Porter-Gaud School, wasn't speechless at the October 30 North Charleston event, hosted by the National Association for the Advancement of Colored People. "I said she's inspired many young women like me to be the change we want to see in the world."
Amauri also had some one-on-one time with the former Secretary of State and took a selfie with the presidential candidate.
She hopes the fact that she's a sickle cell disease patient sends another message, too. "I definitely want people struggling with sickle cell to see that if they take care of themselves, they can make it through it."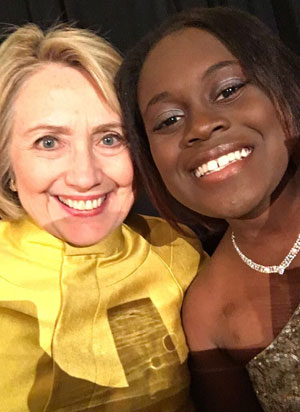 Sickle cell disease causes red blood cells to become crescent – instead of disc-shaped, which can slow or even stop the flow of blood. That can keep oxygen from getting to nearby tissues, causing severe pain.
Amauri has been coming to MUSC for treatment since she was a baby. Now 17 years old, she visits MUSC's Sickle Cell Clinic weekly for tests and monthly for blood transfusions. She credits those transfusions with keeping her discomfort to a minimum. "I used to be not very healthy and now, for a sickle cell patient, I'm really healthy."
Amauri is focused on the future, planning to become a nurse anesthetist or a nurse practitioner. "All the wonderful nurses and doctors I've had at MUSC have definitely inspired that decision." She hopes to go to Spelman College or Francis Marion University.
She's staying busy in the meantime, serving as president of the Global Union club at Porter-Gaud. "It focuses on promoting unity and getting people to embrace diversity and the fact that we're all different." She has organized unity walks at her school, dedicating this year's walk to the Emanuel 9 in memory of the people murdered at a Charleston church.
Amauri's encounter with Clinton isn't her first brush with a national political figure. As a fourth grader, she traveled to Washington, D.C., to lobby members of Congress for better financial support of children's hospitals. Pat Votava, who handles federal government relations for MUSC, went with Amauri on that trip.
"This little girl went around shaking hands, handing out her cards and talking about the Children's Hospital," Votava said. "I knew at that moment that Amauri loved politics and had a true gift for advocacy."
Amauri has kept that love of politics through the years, welcoming elected officials who visited Children's Hospital and staying in touch with Votava. She recently told Votava that she wanted to get involved with a presidential campaign. So when Votava heard banquet organizers were looking for someone to introduce Clinton, she knew Amauri would be perfect.
Amauri's talk at Clinton's banque was brief. But she hopes her visibility as a young woman living with sickle cell disease will resonate longer than that. "I just tell people to stay positive – it's going to get better."