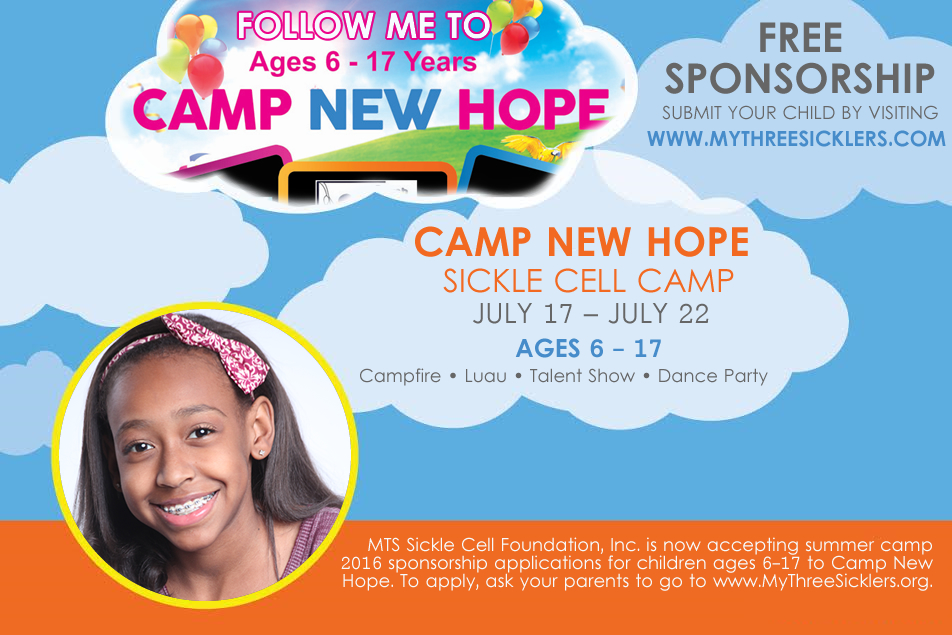 We are now accepting applications to sponsor sickle cell patients ages 6-17 for Camp New Hope. Camp is slated for July 17th – July 22 this year and we are super excited and looking forward to sending as many children battling sickle cell disease to camp as we can. PLEASE NOTE: Your child(ren) MUST sign up for camp via Camp New Hope (Camp Twin Lakes) in order to attend.
CAMP TWIN LAKES – SICKLE CELL CAMP INFORMATION
Provides children living with Sickle Cell Disease a summer recreational and educational outlet by promoting cultural and personal growth and a greater awareness for an appreciation of nature. Register for Camp New Hope here.
Phone: 404-755-1641
WHO CAN APPLY:
Sickle Cell Anemia Patients – Ages 6-17
Georgia resident OR willing to travel at family's expense.
CAMP NEW HOPE CAMP COST TO PARENTS:
$75 per camper. If approved by MTS Sickle Cell Foundation, Inc., the foundation will pay this fee for your child(ren) to go to camp.
Please fill out the below form for a chance to have your child(ren) camp tuition covered by MTS Sickle Cell Foundation, Inc.
PLEASE NOTE: If, for whatever reason, you are not able to access this form, please email mtsscfoundation@gmail.com with the following information: Parent's Name, Address, Phone, Number of campers applying for, Name, Age, Date of Birth, and Sex of EACH camper.