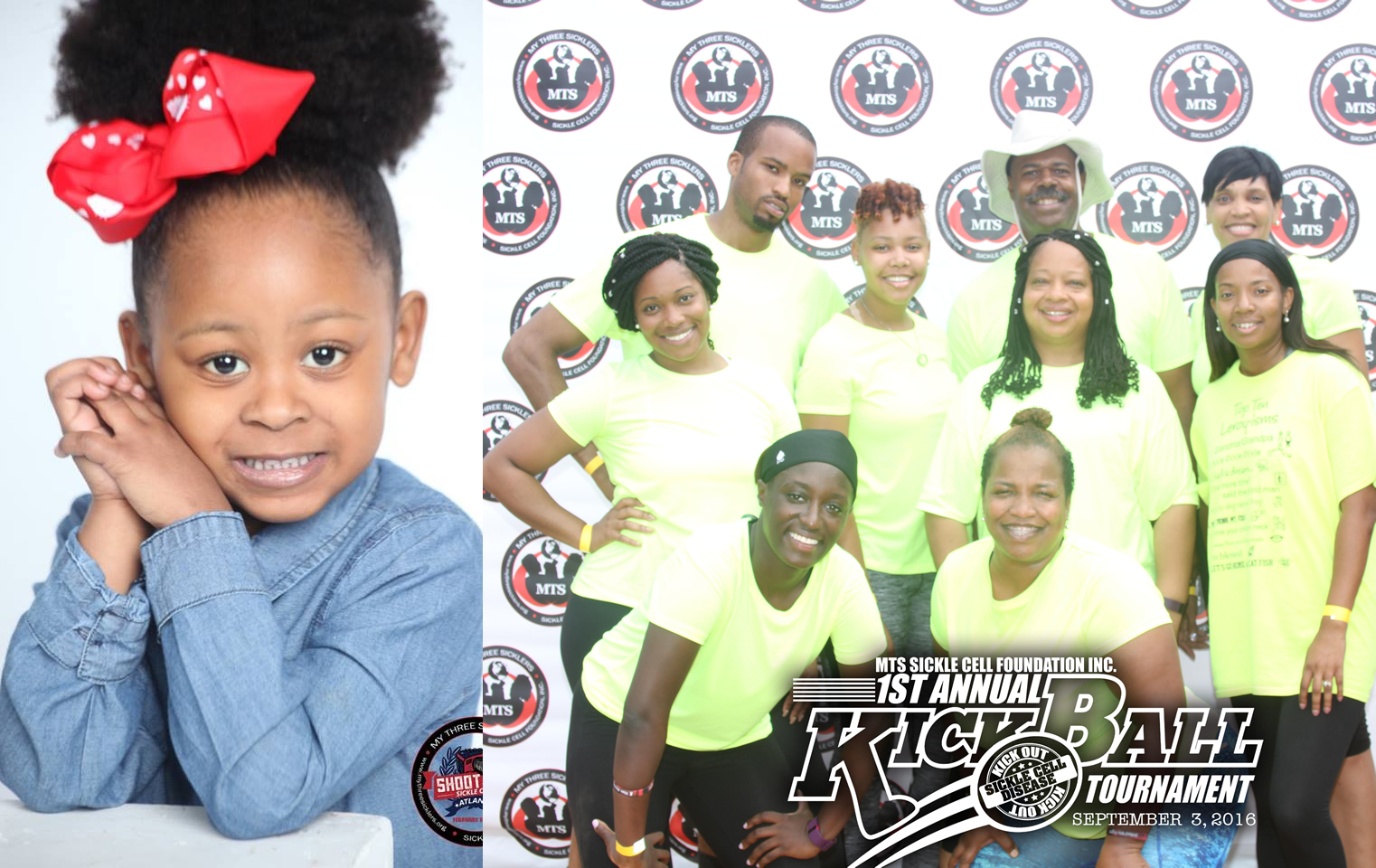 Samantha Barnum contacted me about a week before our kickball tournament and informed me that she was putting a team together that consisted of her, her husband Dedrick, her daughter Kayla, and a few other friends and family. I thanked her for her support and later during the call I asked her for the name of her team. After a little pause, she informed me that she didn't really have a name. I asked her if she knew anyone with sickle cell disease and she said that she did not know anyone and followed up by asking me if I could suggest a name. Now you all know I have three names right off the top of my head, but giving one of my children's names, I told her, was not a good idea because I didn't want the other two to feel bad. I then told her that sickle cell disease is represented by the crescent moon to which she excited responded that her team name was Team Crescent Moon.
Fast forward to around 7:30 a.m. on the morning of the event. Larry and I were heading to Rum Creek Park to meet up with Qiana, Terry and Ebony to start setting up for the tournament when I received a call from my very good friend Nia Colton. Nia and I played kickball for the Killer Bees about 2 years ago and hit it off instantly not only because of our love for the game, but because we were both parents of sicklers. You see, just like my 3 daughters, Nia's daughter, who is also named Nia, also suffers from sickle cell disease. When I was contemplating the formation of MTS Sickle Cell Foundation, Nia was someone I spoke with extensively about what I envisioned the foundation doing to help the sickle cell community, and she would always encourage me and give me fundraising ideas that she's done in the past or ideas that she's seen work for other organizations. So in short, Nia is my girl!
So back to the morning of the tournament. Nia called me to inform me that baby Nia had been hospitalized due to sickle cell complications and that Team Nia will not be attending. I felt so bad to hear that my baby (that's how I refer to Baby Nia) was in pain and advised Mama Nia to not worry about the tournament, focus on Baby Nia, and that now, more than ever, Team Nia WILL be represented at the tournament.
Remember Samantha Barnum who needed a name of someone who has sickle cell disease that she could name her team after? Yep! That same Samantha! When Samantha and her team members got there, I spoke to her about Nia and she did not even wait for me to ask, because without skipping a beat she said that her team was now Team Nia. Other players later registered and joined Team Nia to support "lil mama," as Danita LaShawn Moses calls her. When Terry Cressman opened up with a word of prayer, he prayed for healing for those in pain from sickle cell disease, and Nia's beautiful face popped up in my mind's eyes. I have a feeling though, that I was not the only one who had that experience.