MTS Sickle Cell Foundation has launched Birthday for a Cause, an initiative through which people from all around the world pledge their birthday and donate their birthday present to help us in our efforts to not only create awareness, but provide support to families affected by SCD.
Let your friends and family know that you are passionate about sickle cell disease as a cause and that you support families who are affected by it.
Create a personal fundraising page and share it with your family and friends to let them know that this year, in lieu of gifts, you would like them to donate to the MTS Sickle Cell Foundation. You can personalize your page with your own message and pictures. Every dollar you raise through your page furthers MTS Sickle Cell Foundation's work and helps spread awareness about sickle cell disease.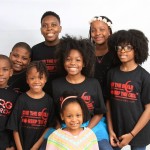 As a thank you for donating your birthday to sickle cell awareness, we want to send you a gift! Raise $250+ and you could receive a free Lose the Sickle, Keep the Cell T-Shirt in the mail.*
---
*Valid for the first $250 raised only and while supplies last.
Pledge Your Birthday!

---
Pledge to donate your birthday to sickle cell awareness and we'll send you a reminder to start your Birthday Campaign
---